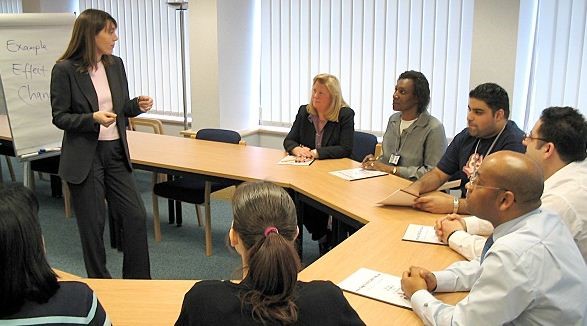 The biggest asset of any business is its employees. Successful organizations are aware of this, and they know how important it is to invest in talent. Many studies show that companies that have dedicated employee training and development programs see not only a sharp increase in profits but also have a high level of staff retention, which is vital for sustained business growth. Employee training is worth the investment because replacing talents is far more expensive than retaining existing ones. According to a study conducted by Gallup, replacements can cost a company around 150 percent of a staff's annual salary.
As markets continue to evolve, and business environments increasingly become competitive, more and more companies realize why employee training is essential to an organization. Today, employee training is no longer a proposition reserved only for C-Suite professionals, but rather, it is an overall growth engine that drives business success.
What is Employee Training and Development?
Over the past few years, leading organizations have invested heavily in employee training and development because the benefits of training to employers are immense and diverse. Employee training has recently become a vital business strategy not only to retain employees but also to create a skilled workforce for the future. Although 'development' and 'training' are terms that people use interchangeably, employee training and development are, however, different. While development programs focus more on broader skills, such as leadership, communication, and decision making, employee training, on the contrary, has clear, measurable goals that relate to improving the productivity and accuracy of current processes.
Simply put, employee development is a broader concept that goes beyond immediate work roles. While development programs increase employees' future performance and growth, employee training is more about learning new skills and acquiring specific knowledge that employees can apply instantly to bring about significant improvements in their current job roles. As businesses compete to retain top talents, the importance of employee training and development is increasing more than ever. According to the Society for Human Resource Management (SHRM), there is a compelling links between business success and learning. Edward Hess, a professor of business administration and author, says: "Companies that learn fastest and adapt well to changing environments perform the best over time."
Why Should You Train Your Employees and Choosing the Business Functions That Need it the Most?
Every business has different needs; therefore, the importance of training your employees may vary according to specific areas and functions. Here are a few tips on how to decide when your employees need training or development:
When your organization faces a knowledge or talent gap.
When you need performance improvements in certain areas or functions.
When there is a requirement to address specific skill gaps.
When your company needs to train employees in specific programs.
When your organization is undergoing technological updates.
When you need to tailor personalized strategies for each employee.
Area-wise examples of training and development programs for employees:
Computer and software skills
Customer service
Communications
Safety and health compliance
Human relations
Work ethics
Higher Capacity for the Adoption of New Methods and Technologies
The advantages of training and development for an organization can be tremendous, especially when it comes to adopting new technologies, processes, and models. However, in today's ever-changing business landscape, one-off employee training is not enough. To reap the full benefits of employee training and development, organizations need to upskill the workforce consistently. This allows employees to quickly adopt the latest technological developments, which they can use to speed up innovations in processes and products.
Employee Training and Development Helps Companies Keep Pace With Changes in the Industry
Modern companies need to develop continuously, which is why training is essential for employees. The importance of training your employees is paramount, particularly when you are trying to keep up with industry changes, rules, and regulations. Having up-to-date knowledge about your industry will help you stay ahead of the competition.
Employee Training and Development Increase Job Satisfaction and Morale
There are many advantages of training and development for an organization, but the benefits of employee training and development also impact employee career growth as well. When employees sense that their employer is helping them to improve their skills and knowledge base, they feel motivated, and this increases their job satisfaction and morale.
Lower Employee Turnover Is One of the Main Benefits of Training to Employers
Getting an opportunity to learn new skills and gain knowledge is why training is important for employees. Still, for an organization, employee training is worth the investment because it translates into decreased employee turnover. Continuous employee training and development, experts agree, is the key to retaining skilled employees, which saves thousands of dollars.
The Ability to Attract High-Calibre Talent Is One of the Prime Advantages of Training and Development for an Organization
An organization that prioritizes employee training and development sets a benchmark, which draws in top-level talent. According to various surveys, job seekers consider employee training and development as a major benefit. From a company's viewpoint, retaining a skilled workforce and attracting quality talent are the two main advantages of employee training and development.
Employee Training and Development Helps Maintain Skill and Knowledge
Every skill requires regular practice. Otherwise, the mastery over it is lost. Periodic employee training programs serve as refresher courses for your employees, which not only helps them sharpen the skills they have already learned, but it also enables your organization to maintain a high level of skill and knowledge.
Employee Training Gives Your Company the Much-needed Competitive Edge
In the present-day business environment, innovations, industry trends, and technologies are always changing. In this scenario, to stay ahead of your competitors, you must recognize the importance of training your employees. When you have robust employee training and development programs in place, your employees will better adapt to the changes, giving your organization the much-needed competitive advantage.
Employee Training and Development Create Scope for Internal Promotions
The advantages of training and development for an organization are varied. One of the major benefits of training to employers is that employee training helps fill internal promotion positions. This is a cost-effective solution, as hiring new talent is an expensive affair. Plus, your existing employees are well acquainted with the organization's operations and work culture, so they can start working instantly.
Top 5 Methods of Employee Training and Development
Given the multitude of considerations, such as the size of the organization, budget, time-frame, location, and learning objectives, choosing a method of delivering employee training can be overwhelming. Here are the top options that will help you pick a training delivery method that meets your needs.
Instructor-led Traditional Classroom Training.
Technology-driven Virtual Classrooms – Enable employee training from anywhere, helping organizations save time and money on venues and logistics.
E-Learning – Offers flexible employee training opportunities via video, text, and audio, which students can access from around the world.
Mobile Learning – A new method of employee training, increasingly gaining popularity for the benefits it offers, including the delivery of knowledge through mobile applications.
Blended Learning – Also known as the mixed-learning module, it is the most preferred choice for leading multinational companies because, blended learning courses, such as the ones offered by CETraC provide outcome-centric learning that is highly interactive and engaging.
In association with international organizations, CETraC offers blended learning courses on marketing and automation, full-stack development, data science, and artificial intelligence, which students can complete at their own pace, anywhere, and at any time.